Plastic Bags on Roll, also known as Poly Bags on Rolls, Plastic Roll Bags, Produce Plastic Bag on Rolls, etc.
Plastic bags on roll is one of popular bags for food, fruit and bakery storage. Nowadays
, there are many types of materials used to produce

Plastic bags on roll

. At Vinbags,

Plastic bags on roll is usually made of

HDPE, LDPE, MDPE or as per customer's request. 
All flat plastic bags on roll has perforation line connecting bags together with bottom seal line. It's easy for us to use and open this bag by tearing off one by one bag. With advantages in easy to store and use, these produce plastic bags on rolls are suitable for supermarkets, home, and stores…
Normally, this kind of bag has transparent color. However, some customers want different colors such as translucent, green, blue, yellow, etc. It's very simple because we just need to add a little masterbatch color while mixing material.
Furthermore, several buyers want to print on the bags with their logo or any information to promote their store or products. It's really easy because we can print upto 11 colors on 2 sides in maximum.
Vinbags's plastic bag on rolls
Our roll bags for food safety are made of 100% virgin resin (Low-Density Polyethylene – LDPE or High-Density Polyethylene – HDPE). Therefore, they meets all requirements for food contact and reach standards for packaging anything food related.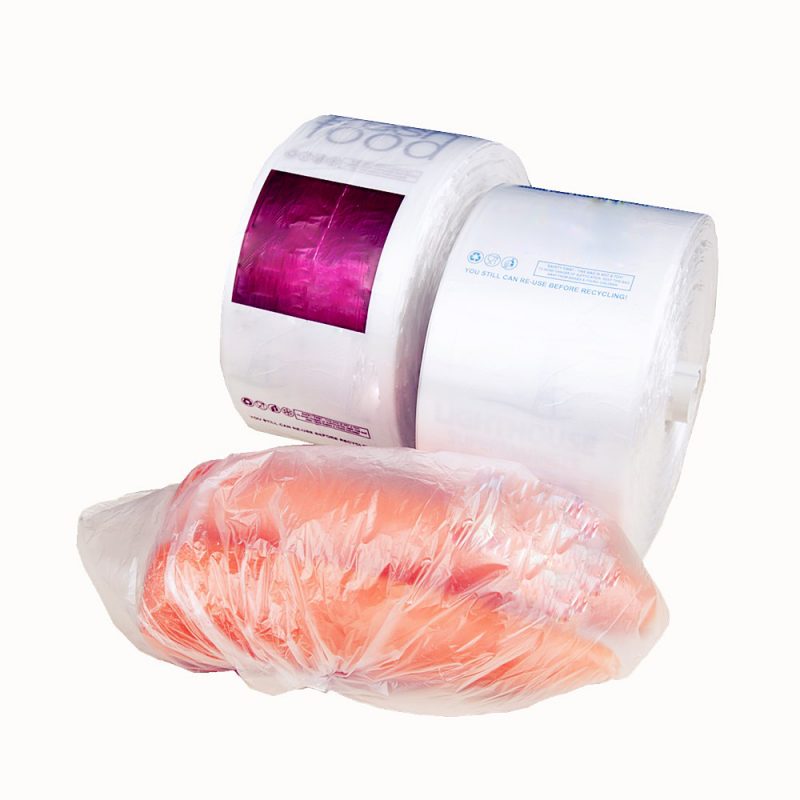 Like the vast majority of our products, the color, thickness and size can also be customized as per customers specific requirements. In addition, we can produce flat plastic bags on roll with or without paper/ plastic core as per customers request. As a result, this kind of bags are easy to open and tear to save time in use. Therefore, the customers feel free to order suitable type of bags in their demand.
How to buy plastic bags on roll from Vinbags
At Vinbags, we pride ourselves in offering the best quality bags as per customer's request with perfect service and policy in sale and after sale. Each of bags we make with our whole enthusiasm, strict management and high quality resin. We're always looking out in your request for just the right balance between cost and quality. Therefore, we are confident to bring you most wonderful bag choices.
For more information of plastic produce bags on rolls or other plastic packaging, please kindly contact with us immediately. Our sale experts will help you have an excellent choice for your orders with suitable prices and high quality.